Endlich Wieder am Meer
A NOVEL BY UDO SCHROETER
TYPE OF CONTENT

Video | Photography |
Landing page
14.768
VIEWS
ADEO VERLAG //
A PUBLISHING COMPANY
Adeo Verlag is a German publishing company addressing both sense-seekers and religious-minded people. Their aim is to provide orientation – inviting readers to pause, to reflect and to enjoy. In the summer of 2014 Adeo published "Endlich wieder am Meer", the second novel by Udo Schroeter, one of their signed authors. In this book Udo gives inspiration on how to pause from stressful routines. Using metaphors from nature, he shows how to slow down and adapt to an individual and personalized rhythm of life.
THE PROJECT //
We were asked to create video content to promote the release of the new novel.
The main purpose was to increase the visibility, and inform about the content of the book. Besides selling more copies, Adeo had a goal of reaching at least 10.000 views on YouTube.
THE CHALLENGE //
Meeting Adeo, we soon realized that they had lost faith in video marketing.
They were at a tipping point, just about quitting video as part of their marketing strategy. In the past, they had failed to create videos that caught enough attention, conveyed a meaningful message or interacted with their customers. When analyzing the publishing industry, we quickly realized that Adeo was not the only company struggling with that issue.
Many publishers create videos to promote new work, but only few succeed in reaching their audience. This was a surprising result, and we realized that we had to get our heads around this problem to be able to succeed with video marketing.
WHAT WE DID //
We met Udo, went fishing, drank coffee in his kitchen and started reading his book. Beside meeting with Udo, we started a substantial process of research to get our head around the fact that the industry had problems with video content.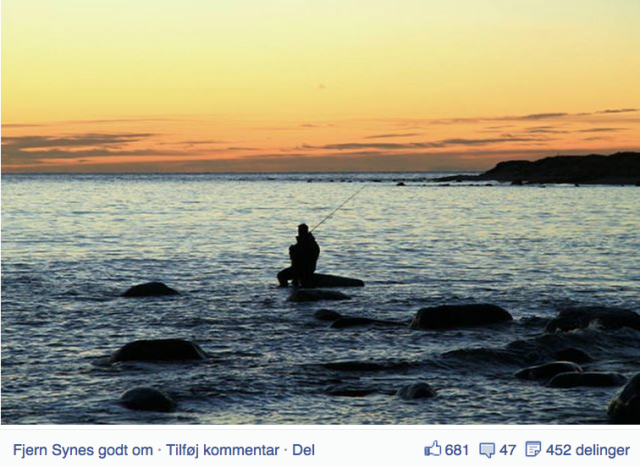 One of the striking observations made was the fact, that people spend time reading long posts and actually sharing content dealing with a simpler and less stressful life. It was during this process we stumbled upon a SINGLE Facebook post by Udo on his Facebook page. This particular post had 681 likes and was shared 452 times.

Now we knew we had found our way to success! A beautiful sunset – followed by Udo in a close up talking about his way of writing. The video was used as a first teaser of the book and at the same time gave us the opportunity to test if our approach actually would work, having in mind that the industry previously had troubles with video content.
"We wanted to show Udo's true
motivations behind his new book, making it easier for his readers to understand what the book is all about."


THE CREATIVE TEAM, GOOD PEOPLE
We published the video on Udo's Facebook page, waited...
and it worked! Within only a few days the video had around 650 views. This convinced us that we were on the right track and we only had to make some minor adjustments and produce the actual campaign videos, to support the release and to ensure a considerable and diverse campaign over time.
All of ours efforts were made to create one coherent look and feel for the release, to make sure that the desired audience would recognize the book and connect with the message conveyed.
After spending some time with Udo we created:

one teaser video, which has been released before the official book release.
3 campaign videos released together with the book.
a series of headshots of Udo.
two specific landing pages:

one for customers, giving them detailed information
and encouraging them to
buy the novel.

one for the press. A page where journalists can order the book for free, download the headshots of Udo and
find press releases.
Adeo has been very happy with the result. The produced video content got the desired 10.000 views on YouTube and more importantly, based on our video promotion particularly on youtube & Facebook, the sale of Udo Schroeters book started very promising.